Thursday, February 23, 2012
12:14 AM |
Posted by Balinda (RebelChick)
|
Edit Post
February is the busiest month for me other than December. It holds Valentine's Day, my Papaw's Bday (RIP~but I will never quit acknowledging his day), my Bday, my DD's Bday and my ex-MIL's Bday (I make sure my kiddo's don't forget her). I am beyond excited to say that I am down to ONE closet and a few things that will go to our Home school groups rummage sale next weekend in my quest to declutter and SIMPLIFY our home and essentially our lives. No sense keeping things we have (1) no room for (2) forgotton we have and (3) could go to other's who need it much more that us.
So in celebration of the fact I will be COMPLETELY finished tomorrow with that task that has taken me essentially 2 months 2 do in between all the other daily needs that could not be ignored~I bought myself a prize from Tangie Baxter's Esty shop. I think every art room/studio should have a bit of Alice whimsy....I cannot express how much I just ♥ it!!!!
My birthday was last friday on the 17th. After an EPIC FAIL on getting me nothing for Christmas the hubby came through with an art set for me to use for art journaling. I think he was trying to cover all his bases, LOL!! I do love it and I ♥ him even more for getting something so very thoughtful for me. I should definitely make him an art wish list. ;P
My sweet son treated me to a Mother/Son lunch at Southfield Grill. I have passed it hundreds of times but never took the time to go inside. The most wonderful home cooked food you can imagine. The fried squash was to die for!!!! It was also very budget friendly. I will most definitely make this one of my go to places to eat now.
I had sent the hubby and DD off to the shooting range while I was out for the day. I got home literally 2 minutes before they did. I walked in and found these on the breakfast bar......not from the hubby.....but from my sweet and wonderful Mama and Daddy. Of course I then had to call them and be all mushy with the love and kisses.
I have been very much blessed with family that loves me and this past week they all went out of their way to show me how much. I cannot ever express how much I ♥ them!!!!!!!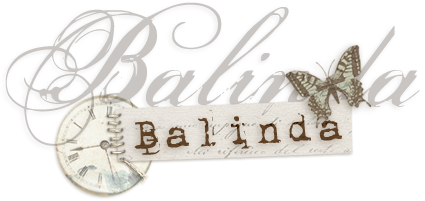 Balinda
has read 0 books toward her goal of 12 books.

About Me
Balinda (RebelChick)

Just an everyday girl trying to find my way in the world to live life fiercely and passionately. I was a signature tagger for several years but art journaling has replaced that passion and it feeds my soul creativiely and spiritually. I also homeschool my DD, scrapbook, play around in photography, spoil my cats and drive my hubby insane on a daily basis. My faith in the Lord helps me juggle all these blessings. I keep this blog because it makes me happy. Sometimes I blog a lot and other times it collects a little dust. Thanks for visiting and being my friend.♥
View my complete profile

My Galleries
Daily Inspirations
Labels

Blog Archive