Thursday, February 26, 2009
10:03 PM |
Posted by Balinda (RebelChick)
|
Edit Post
First off I want to give credit where credit is due.
Amber has made it right for me and payed me the
monies I was owed from US4T.
Now..what a week...I have been on a creative slump...
mostly due to my pc acting like a piece of crap.
It would freeze up if I had more than 3 windows open and
God forbid if I tried to psp or open PS. I had Pando on here
and removed it. It was like my computer said TY....and
started acting better almost immediately. I then ordered
another MB of memory for it and now it's zipping right along.
So..since it's only recommended that is old pc should have 2 MB's
of memory..I have another one ordered and hopefully it will
be here about Wednesday of next week. I so can't hardly
wait. This is worse than Christmas.
I have also been running like a mad woman all week with
my Mom. She broke her wrist last Saturday at my
daughter's skate party. She is actually a good skater
after her first couple of turns around the rink...it was
just that some rude little kid decided to go in the wrong
direction and she tripped over him trying not to run into
him. She had surgery on it today and the doc inserted
some screws into it. I can now say she is really "screwy"
and totally get away with it now..hehehe! So for the
next few weeks, I will definitely be at her beck and call.
Believe me, she secretly loves it.
Well..I guess I just needed to blog a bit. I have my
Project 365 Blog I need to work on and get some
photos scrapped. I think I will do that over the weekend.
Huggles to all!!!!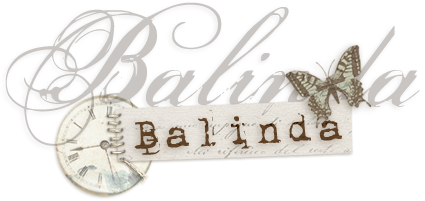 Balinda
has read 0 books toward her goal of 12 books.

About Me
Balinda (RebelChick)

Just an everyday girl trying to find my way in the world to live life fiercely and passionately. I was a signature tagger for several years but art journaling has replaced that passion and it feeds my soul creativiely and spiritually. I also homeschool my DD, scrapbook, play around in photography, spoil my cats and drive my hubby insane on a daily basis. My faith in the Lord helps me juggle all these blessings. I keep this blog because it makes me happy. Sometimes I blog a lot and other times it collects a little dust. Thanks for visiting and being my friend.♥
View my complete profile

My Galleries
Daily Inspirations
Labels

Blog Archive