Friday, December 30, 2016
11:47 AM |
Posted by Balinda (RebelChick)
|
Edit Post
Sometimes one needs to retreat from the world to find out who they really are. That's definitely what I've been doing. I've been one half of a two part team for so many years that I'm floundering around like a fish out of water. Everything is just as difficult and unfamiliar to me as the fish who needs to be in the water to survive. Me without my husband literally takes my breath away. I am finding grief to be very exhausting and unpredictable. One day I can laugh and other days all I can do is cry. It's a cruel sack of emotions I go through. For the longest time I thought I was going crazy but then I found a group on Facebook with so many beautiful souls who are walking the same walk as I am. I am NOT crazy. I have found out that what I feel is ok and quite normal and it's my grief and MY time table on when I do or don't do things. Other's move on fast to new relationships and just as equally there's just as many who a Chapter 2 with someone is a foreign concept. I'm of the mindset that I was so lucky to have a love story of a lifetime. How could I be greedy and expect anything more. But if God set someone in my path I would do my best to recognize that gift. Until then, I am creating a life for me with no expectations of sharing with anyone else. I need to find me and who I am as a single solitary soul and sometimes I think I know who that girl is and other time's she's as elusive as smoke in the wind.
2016 is almost over. I don't believe in resolutions but I have been giving tremendous thought on how I want to live the next year. So many of my days during this past year I just existed. If I got through the day, it was an accomplishment.....it really was!!!! I've decided it's ok to be selfish. I am a team of 1 now. I need to take care of me so my health is top of the list. I will quit feeling quilty for finding joy and I will consistently make time for art, digital and mixed media, and last but not least I will make time for God and set aside time for my Bible study and prayer time on a consistent basis.
Above it all I will will be BRAVE.
Scared is what you're feeling. Brave is what you're doing.
― Emma Donoghue
Many blessings for the coming year to all of you!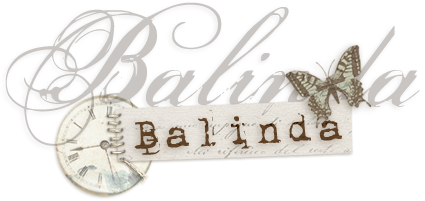 Tuesday, September 6, 2016
2:26 PM |
Posted by Balinda (RebelChick)
|
Edit Post
It's been a long time since I have blogged. A lot has happened since the last time I shared. One of the things that kept me away was that I was living life with my husband...we had big plans to sell our home and buy a travel trailer and I go out on the road with him while he worked out of town. We realized that we had lost so much time together already with the work situation and we wanted to find a way to remedy that. You can't get time back.
Then the knock came on the door that changed my life forever. My beloved husband had died. He was only 46 years old and for all we knew healthy. He has just had a physical but a blood pressure issue had went undetected over time and he had a cardiac arrest. He was out of town working. I had spoken and texted him through out the day. Things were great. He was scheduled to come home the next day. In less than a split second my heart was shattered. Just a few days ago marked a year that he has not been the voice I hear every single morning when I wake and the rock I leaned on. I had the luxury to be a stay at home mom and wife. We sacrificed for that to happen but it was worth every coupon I clipped. It's taken me a year to find a new home and a job that could pay the bills that go with it. In fact, I've only been in our new home a month and I still have boxes to unpack.
So here I sit.....being eternally grateful for all my blessings and at the same time cursing because this is not supposed to be my life....but yet it is. Everyday I wonder how I will make it through and at the end of the day I find that somehow I did. I wonder if I will ever feel genuine joy and happiness again. I have moments with my kids......how can I not? but that's not joy felt in my soul.
And if I've heard it once....I heard it a hundred times....."You are so young, you will remarry." I die a little every time I hear it. Me and Ricky were perfect together.....I can't even wrap my mind around anyone else in my life.
So here I sit....working on living again.....and maybe one day I can smile without tears in the corners of my eyes.
Here's to Living Well and Blessings to All☻